Sopeutuvat lajit/ Adjustable Species 2011
Installations and soundscape.
Esiaikuinen saalistaa/ Subadult hunting 2009-2011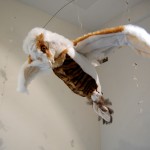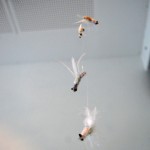 Subadult trying to prey – unless he will not collapse.
Tanssivat korpimetsot/ Dancing capercaillie hybrids 2011
110 x 110 x 50 cm

Monotonic disco with the help of two motors under wings. Why to fight if one can dance.